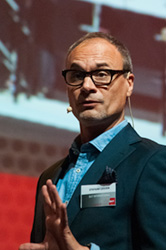 Bio
Stefaan A. Le Clair
Founder & Managing Director
BERENIKE Global Fashion Management
, bv, Belgium
Founded in 2010
Some clients of Berenike:
Laura Ashley Ltd
(UK),
Etam Group
(NL),
Tango Shoe Group
(NL),
Mavi Group
(TR),
Apparel Tech
(PRChina),
Andres NV
(BE),
Karstadt
(DE),
BUT INTERNATIONAL
(FR),
Hudson's Bay Company
(USA/CAN),
Van de Velde
(BE).
The Dassy Group Europe & Dovesco
(BE)
Stefaan Le Clair, a Belgian national, is an expert on Customer Experience and International Retail management. In his vast career, he has led important international fashion groups with businesses in Europe, Asia, India, and the Americas. A keynote speaker in Asia and Australia on retail transformation and consumer changes.
In the late 90's he lived in Shanghai where he laid the foundation of what is now the largest European ladies' wear retail brand in China with more than 3500 stores:
Etam
.
He was responsible for the rebranding and restructuring of the 100-year-old, iconic English
denim brand Lee Cooper.
Celebrating its centennial in the year 2008, Lee Cooper dressed 700 members of the U.K. Olympic team and 300 members of the Paralympic team for the Olympic games in Beijing.
He managed
Galeria INNO
, the One and Only department store in Belgium, and helped Hudson's Bay Company (HBC) on its first steps in Europe. Recently he managed the
Dassy Group Europe
, a producer, and distributor of professional workwear in 20 countries with its own factory in Sri Lanka with about 2000 workers. He facilitated the change of ownership and helped the group through challenging times such as Covid, supply chain troubles, and the economic impact of the war in Eastern Europe.
Le Clair is a Master in
Archaeology & History at Katholieke Universiteit Leuven
and studied
Financial Management
and
Take The Lead in Digital
Transformation
at Vlerick Gent-Leuven Management School, also
Digital Transformation Strategies
at Cambridge Business School, he is:
NED at company at Rosie On Fire, Kuala Lumpur/London (luxury fashion e-com)
Advisory Board atThe Raven Collective, Berlin (sustainable luxury fashion e-Com)
Member of the supervisory board at A Smart World, Brussels (circular economy solutions)
Member of the Association Belgium-China since 2001
Board member of the Association Belgium-Vietnam since 2011
Former NED of Duror NV (fashion brand Terre Bleue), Belgium
Past Fellow of the Royal Society of Arts and Commerce in London
Knight in the Order of the Crown by his Majesty Albert II, King of Belgium.
PAST EXPERIENCES

CEO of the
Dassy Group Europe
with bases in Brugge, Belgium and Sri Lanka
Chairman and CEO of
Galeria INNO and HBC Netherlands
with a base in Brussels/Amsterdam
Chairman and CEO of
Lee Cooper Group Ltd
with a base in London, United Kingdom
Vice President Retail Europe of
Esprit
with a base in Düsseldorf, Germany
Ops Director of
Etam Group
with a base in Zoetermeer, The Netherlands
Chief Buying Officer
Carpetland Europe
with a base in Antwerp, Belgium
Vice President
Etam
China
with bases in Shanghai, PR China and Paris, France
Senior Product Manager
WE Europe
with a base in Antwerp, Belgium